Google Pixel 7a 5G
It's fast and secure, with an advanced camera and amazing battery.
Beautifully designed with recycled materials.
Everyday moments made easier.
All-around incredible photos and videos.
Secure to the core.
Performance
Everyday moments made easier.
Pixel 7a is super fast and responsive, with an adaptive battery and so much more.
Processor
Google Tensor G2
for even more power.
The powerful new processor is custom built with Google AI and makes Pixel 7 faster, more efficient, and more secure. It delivers even more helpful features and Pixel's best photo and video quality yet.
By Google for Pixel
The chip behind it all.
Boosts battery life.
Every aspect of Tensor G2 was designed to improve Pixel's performance and efficiency for great battery life. Tensor G2 runs Google's machine learning models with less power and latency. And it makes Pixel faster and more helpful than ever.
Secure to the core.
The Titan M2 security chip is tested against the international gold standard used for identity, SIM cards, and bank card security chips. Google Tensor G2 helps safeguard your apps with Android Virtualization Framework, a form of Protected Computing.
Pro-level photos.
Tensor G2's advanced image processors and Google's cutting-edge computational photography work together to help improve photo quality and the processing speed of your camera. This powerful system can instantly fuse images to make features like Super Res Zoom even better.
Videos just like the movies.
Tensor G2 enables extraordinarily detailed video. With upgraded image processing capabilities, video quality is amazing whether you watch on your Pixel or your big-screen TV. Record video with Cinematic Blur, and Tensor G2 processes the effect in real time as you record.
Super intelligent dictation.
Tensor G2 runs Google's latest advanced speech recognition. Your Pixel understands how you speak and learns names of your family and friends, favorite places, and more. And it gets even better over time.
Amazing gaming.
Tensor G2's GPU runs more efficiently, delivering smooth real-time rendering for stunning, fluid graphics.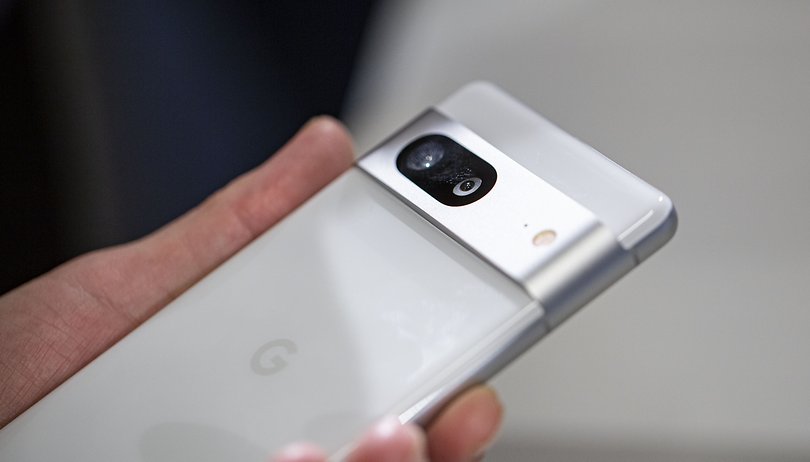 All-day battery that can last three days.
Pixel's Adaptive Battery can last over 24 hours – and up to 72 hours when you turn on Extreme Battery Saver.
Hear callers when they're in a noisy place.
Pixel helps to filter out the noise and enhances their voice with clear calling. Focus on the conversation, not the crowd.
What you need, when you need it.
At a Glance helps to show you useful info you need at the right time, like weather alerts, a package delivery at the door, or an event reminder.
Translate languages in real time.
With Live Translate, you can interpret face-to-face conversations in 48 languages, chat in real time, and translate menus with your camera.
Photography and video
All-around incredible photos and videos.
Pixel 7's dual rear camera system helps you capture memories in stunning 4K color and detail. And with Cinematic Blur, you can now bring incredible quality to your videos.
Hello, Hollywood.
Bring more drama to video. Cinematic Blur keeps your subject in focus and blurs the background for a dramatic effect.
Fit more friends in the frame.
The front-facing camera now has a 92.8° ultrawide field of view for group selfies and epic backdrops. And with its bigger sensor and sharper lens, it provides better low-light photography – you can even document it all in 4K resolution.
Zoooooooooom.
Super Res Zoom image quality is similar to a dedicated 2x optical zoom, and can go up to 8x for high-quality photos from far away.
The photo you imagined in just a tap.
With Photo Unblur, sharpen images in Google Photos with just a tap. And with Magic Eraser, remove distractions, like photobombers. Or change colors and brightness so an object blends right in.
Selfies for everyone.
Guided Frame helps people with low vision take the best selfies. It uses audio and haptics to ensure a face is right in frame.
Feel seen with Real Tone.
Real Tone represents the nuances of more skin tones beautifully, authentically, and accurately – even in low-light photography.
Protection
Titan M2 helps keep you and your info safe.
Google's Titan M2 chip is tested against some of the same rigorous protection guidelines trusted for identity, SIM cards, and bank card security chips.
Unlock with your face or fingertips.
With Face Unlock, just glance at Pixel to unlock it quickly and easily. Or with Fingerprint Unlock, simply tap it.
Emergency help when you need it.
With the Personal Safety app, Pixel can automatically call for help, share your location, or record a video.